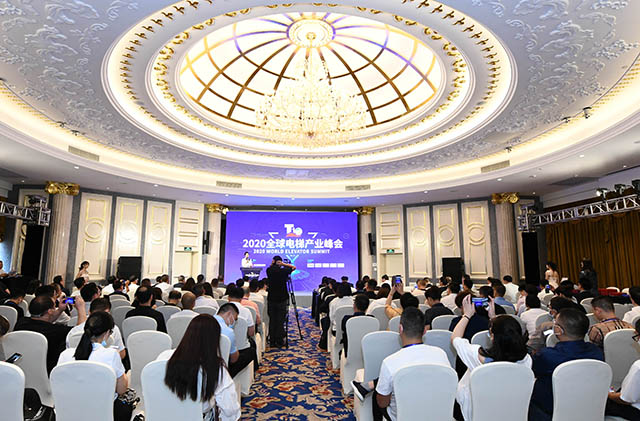 Recently, World Elevator Summit was held ceremoniously in Shanghai. "China Top 10 Elevator Companies", "the most influential Elevator Parts Enterprise in 2020" and other authoritative lists selected by Global Elevator Industry Summit Organizing Committee were released in this summit and they awarded the prize " Elevator Projects of The Year" together with Organizing Committee of China Construction Technology Innovation Conference.

•BLT has achieved "China Top 5 Elevator Companies" prize for the third time, the comprehensive strength of it is self-evident. Meanwhile, according to its excellent performance in elevator field, Yunnan Construction Group affordable Housing project from BLT is selected in the " Elevator Projects of The Year " prize together with CITIC Tower project from KONE and Shanghai Tower project from Mitsubishi Elevator.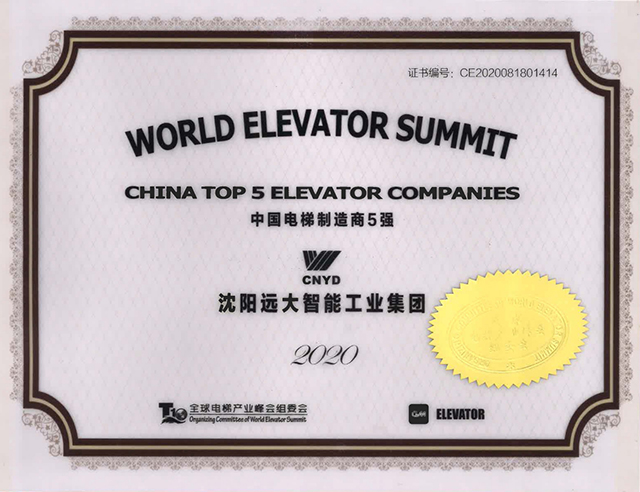 As a company that has achieved "China Top 5 Elevator Companies" prize in three consecutive times, BLT has been an outstanding performer in the field of innovation ability, brand influence, industry reputation, growth capacity, compound growth rate of sales and industrial diversification development through years of accumulation. Now BLT is going against the trend into a new journey.
At this time, being on the list of " Top 5 Elevator Brands" is not only an approval to BLT`S major status of being an important participator in Chinese elevator but also an encouragement to its conception of motivating high quality development with innovation.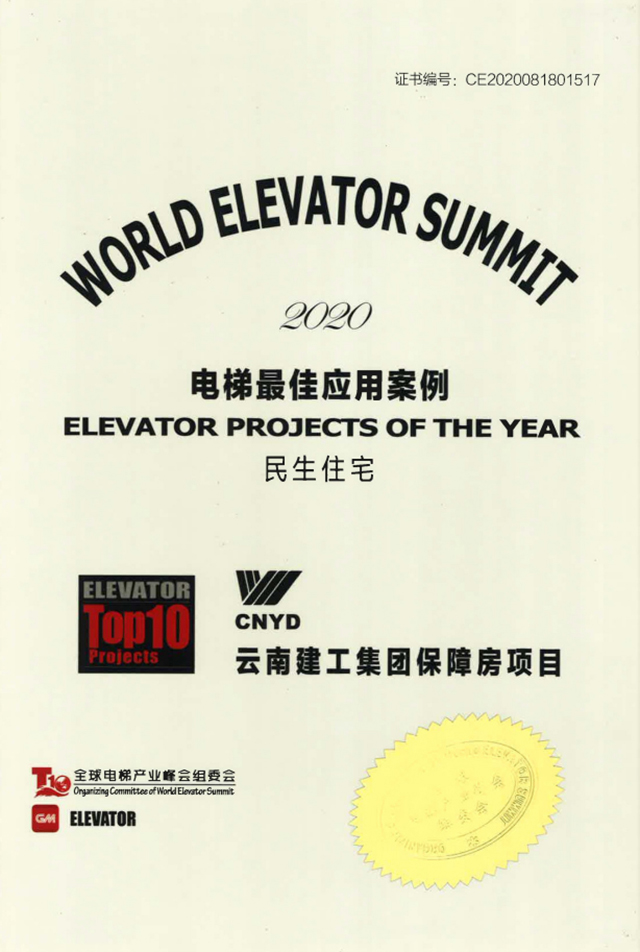 Stabilize the strain and exploit Chinese elevator market deeply

In the influence of epidemic and many other uncertain factors, the economic environment is complex both in domestic and overseas, but BLT is still in an ongoing condition and the sales of domestic market grew rapidly compared with last year, the sales of South America, Australia, Singapore and Russia is also rising. BLT provides an excellent "model" for Chinese national Brand to make progress and Chinese national Brand also has the faith and ability to face the international competitive environment. BLT motivates its innovation ability completely and work hard in production, technology and brand. In about 20 years` developing process, BLT has won the first-place in many items and has become an Elevator Whole Industry Chain manufacturer and Intellectual Industry manufacturer with international competitiveness.
In the past years, global elevator brands flocked into Chinese market, making it hard for Chinese elevator brands to live; Nowadays, Chinese elevator brands represented by BLT are playing the advantage of being a latecomer and are standing out in this fierce market competition. A series of Chinese elevator brands have grown up to the national brand leader which can compete with global elevator brands. In the future, the structure of global elevator market will be remodeled in the power of China and BLT will must be the industry leader.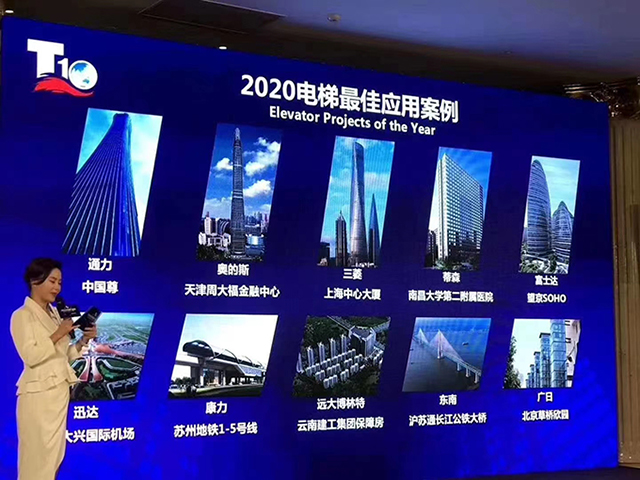 CITIC Tower project——KONE
Tianjin CHOW TAI FOOK Financial Center——OTIS
Shanghai Tower——Mitsubishi elevator
The Second Affiliated Hospital of Nanchang University——thyssenkrupp
SOHO China——Fujitec
Beijing Daxing International Airport——Schindler
Suzhou Rail Transit line 1 -5——Canny elevator
Yunnan Construction Group affordable Housing——BLT elevator
Shanghai-Suzhou-Nantong Yangtze River Bridge——DNDT
Beijing Caoqiaoxinyuan community——Guangri elevator
Seek to quality and promote innovative high-quality development firmly
BLT revitalizes technology with innovation and has worked assiduously to be succeeded in drive control, dynamic response, stable operation and launching the "contact-free intelligent call elevator" function. BLT is trying to make "Quality" be the "hardcore" of Chinese creation, making "excellence" be the central "motivation" of BLT moving forward.
The outstanding product quality has helped BLT win the important task of transporting in urban large-scale project. BLT showed its skills in the large-scale rail traffic project such as Beijing Airport project, Beijing Subway project, Nanjing Subway project ,Shenyang Subway project and dabbled in the elevator renovation project of affordable housing and old housing. BLT always takes innovation as company`s "shield". In order to bring the more convenient and safer experience for users, BLT keeps reformation in technology, promoting the construction of intelligent manufacturing plants, exploiting the combination of new technology and elevator control system and establishing generalized IOT system. Nowadays, there are more than 100 thousand BLT elevators with anti-slip technology running safely in global market. Insisting on innovation has been the "weapon" for BLT to exploit market.
BLT is ready for starting the internal circulation of China's economy and promote a new round of economic growth in China. Being on the list of "China Top 5 Elevator Companies" is like an encouragement for YUANDA Company to move forward. There is no doubt that BLT will promote both brand and sales depending on its comprehensive brand strength and perfect production chain in another round of market competition.